A Guide To Women's Tops
Posted on 25 August 2017
A Guide To Women's Tops
From informal to dressy occasions, a woman's top can actually tie her entire outfit together. Choices range from a wide variety of t-shirts and blouses (in both short and long-sleeved options) to sleeveless crop tops in warmer weather. Women's tops are also available in a wide variety of materials and colors to suit your style. T-shirts are usually plain or have graphic prints. Blouses can add sophistication to your work outfit or complement a favorite pair of jeans. Tank tops can be loose or clingy. Love long sleeves? Thermal tops and henley shirts retain heat throughout the winter months. You can also take a sporty approach to informal styling with sweatshirts, track jackets and zip up hoodies. For work outfits, search for collared blouses, fake-wrap shirts and ruffled button-downs.
Let's talk tanks. For an off-the-cuff look, tank tops with basic designs or solid colors can be easily matched with any pair of bottoms. Searching for sleeveless options to add to your workweek rotation? Buy pretty sleeveless blouses with classic details like lace, button fronts, ruffles or neckties. When it's time to hit the dance floor, sparkle whilst you sashay in metallic prints and sequins. Don't be afraid to be bold, make a statement with a one-shoulder design.
Designed for style and comfort, our tops are made with superlative fabrics that look fantastic and feel good to put on. They're machine washable, simple to care for and are long lasting They are cut to flatter, and are available in numerous sizes and colors.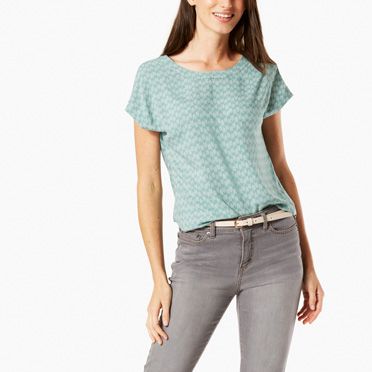 Old Navy women's tops are another great option which can can really make over an entire outfit. Their affordable selection of tops work effectively with jeans, slacks and shorts. You'll be able to accessorize to your heart's desire. Add belts, necklaces and scarves to accentuate your style. The majority of their tops, just like with ours can be matched with flats, pumps, boots or tennis shoes. You can achieve a layered look with cardigans, jackets, and blazers.
To stay up to date with all the current trends and styles regarding womens tops, don't forget to subscribe to our newsletter and check back in with our style blog section often!